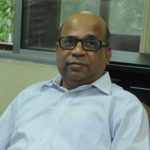 Prof. P P Mujumdar is currently serving as a Professor in the Department of Civil Engineering and as an Associate Faculty, Interdisciplinary Centre for Water Research (http://icwar.iisc.ac.in/). He has earlier served as the Chairman of ICWaR from July 2015 to October 2022, Chairman of the Department from November 2006 to December 2010 and as KSIIDC Chair Professor from August 2012 to July 2015. He holds Associate Faculty position in the Center for Earth Sciences at IISc Bangalore.
His area of specialization is Water Resources with a focus on climate change impacts on hydrology/water resources, statistical downscaling of GCM outputs, urban flooding, planning and operation of large scale water resources systems, and uncertainty modeling.
His recent research contributions include detection and attribution of hydrologic change, development of downscaling models and quantification and reduction of uncertainty in climate change impact assessment. He has served as the Chairman of the Water Resources Management section of the International Association for Hydro-Environment Engineering and Research (IAHR), and as a reviewer for the Assessment Report 5 (AR5) of the IPCC.